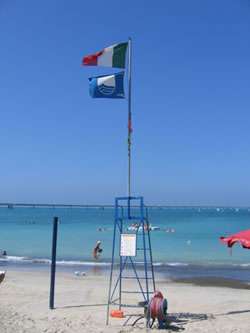 High quality beaches in Italy are 233, two in addition compared to the last year. The confirmation arrives from Blue Flag 2011, who attests not only the clean waters but also services, safety and education environmental.
Both Jesolo Lido (Venice seaside, Italy) and Lignano Sabbiadoro (Venice seaside, Italy), both sites of AC Milan Soccer Camp 2011 organized by Sporteventi, have received the international award of Blue Flag 2011
AC Milan Football Camp 2011 will take place in Jesolo Lido from 17th to 30th July and in Lignano Sabbiadoro from 31st July to 6th August; in these sites will be present the AC Milan Coaches: Pierino Prati and Stefano Eranio.
For further information about AC Milan Summer Camp 2011:
https://en.sporteventi.com/locations-sites-acmilansoccercamp.html
For further information about the Blue Flag program:
http://www.blueflag.org