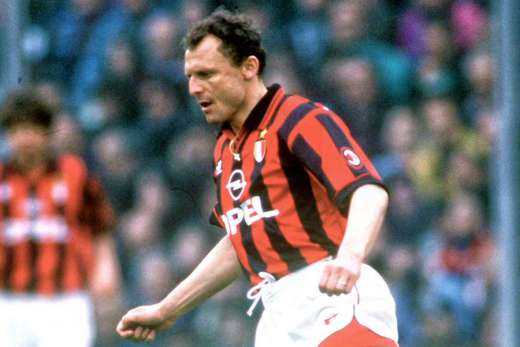 AC Milan Academy Junior Camp Sporteventi this year present a new AC Milan Supervisor of huge international fame, a football legend: Pietro Vierchowod.

Pietro Vierchowod was one of the best Italian football champions of the 80s and 90s. Thanks to his talent, his technical skills and his physical performance, over the years of being a  nightmare for many strikers he has been nicknamed the Tsar of defence. After the various clashes, even Maradona defined him as Hulk because he could never score against him. Famous are also the duels with Van Basten, who managed to brake his defence only once and only after 4 years of attempts.
In the Tsar's career there are 12 seasons in a row played in the Sampdoria team, one season in Juventus and one in AC Milan; he won two Serie A Italian championship titles (1982-1983 and 1990-1991), four Italian Cups (1984-1985, 1987-1988, 1988-1989 and 1993-1994) , two Italian Supercups (1991 and 1995), a European Champion Clubs' Cup (1989-1990) and a UEFA Champions League Cup (1995-1996). He was also part of the Italian National team from 1981 to 1993, participating in the World Cup in Spain in 1982 and becoming consequently a world champion.
Vierchowod will be Supervisor at AC Milan Academy Camp 2018 in the week from July 1st to 7th July in Cortina d'Ampezzo, lucky are the guys who will take part in his trainings: a coach of his level will certainly be able to transmit them the techniques that made him a world champion.
mail: info@sporteventi.com
mobile: +39 348 8746938
---
Пьетро Верховод – Царь Защиты
Футбольный лагерь ФК Милан «AC Milan Academy Junior Camp»  Sporteventi в этом году может похвастаться новым  техническим руководителем и супервайзером, а также известной легендой итальянского футбола: Пьетро Верховод.
Пьетро Верховод был одним из итальянских футбольных чемпионов 80-х и 90-х годов. Благодаря его таланту, его технической подготовке и физическим характеристикам, на протяжении многих лет он был прозван Царём обороны за то, что он был кошмаром для многих нападающих. После различных встреч, даже Марадона определил его как Халка, потому что он никогда не мог выиграть против него. Известны также поединки с Ван Бастеном, который сумел пробить защиту Верховода только один раз и только после четырех лет попыток.
В карьере царя  12 сезонов подряд в команде «Сампдория», два чемпионство в Серии А (1982-1983 и 1990-1991 гг.), Четыре итальянских кубка (1984-1985, 1987-1988, 1988-1989 и 1993-1994 гг.),  два итальянских суперкубка (1991 и 1995), Кубок  кубков (1989-1990) и Лига чемпионов (1995-1996). Он также явлался частью сборной Италии в 1981-1993 годах, участвуя в Чемпионате  мира в Испании в 1982 году и став  там чемпионом мира.
Пьетро Верховод будет Супервайзором и наблюдающим футбольного лагеря ФК Милан 2018  с 1 по 7 июля в Кортина-д'Ампеццо: тренер его уровня, безусловно, сможет  передать его навыки и опыт участникам лагеря.
Емайл: info@sporteventi.com
Телл: +39 348 8746938