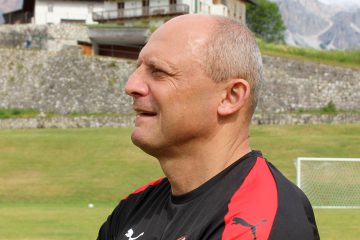 Even in the summer 2019 highly prestigious Lead Coaches will be present during the AC Milan Academy Camps in Cortina d'Ampezzo, Asiago Mountain Plateau, Jesolo (Venice) and Lignano Sabbiadoro.
Today we mention Coach Pietro Vierchowod, an Italian former footballer who played as a defender. He represented the Italian national side during his career, and was most notably a member of the Italian squad that won the 1982 FIFA World Cup.
Widely regarded as one of the greatest Italian centre-backs of all-time, and one of the best of his generation, during his playing career he was nicknamed lo Zar ("the Tsar") because of his pace, defensive ability, physicality, tenacious playing style.
Vierchowod was initially a man-marking centre-back, who also later excelled in a zonal-marking system. He started his professional football career for Como, before moving to Fiorentina. However, his first successes came when he moved to Roma, winning a Serie A Scudetto in 1983. Then he moved to Sampdoria, with whom he won four Italian Cups, one European Cup Winners' Cup and another scudetto in 1991. In 1995, he signed for Juventus, where he acted as an experienced defender and won his only UEFA Champions League in 1996 at the age of 37. He played the final in Rome against Ajax which Juve won on penalties.
Vierchowod was capped 45 times with the Italy national team between 1981 and 1993, scoring two goals. He was one of the players in the Italian squad that won the 1982 FIFA World Cup, under manager Enzo Bearzot. Vierchowod was a member of the Italian squad that took part at the 1986 FIFA World Cup, and he also made three appearances at the 1990 FIFA World Cup, as Italy finished in third place on home soil, under manager Azeglio Vicini, after reaching the semi-finals.
At the link you will soon find his CV https://en.sporteventi.com/pietrovierchowod-acmilansoccercamp.html
Coach Pietro Vierchowod will be the Lead Coach at AC Milan Camp of Cortina d'Ampezzo (3rd week) from June 30th to July 6th and will be joined by Milan Technical Directors Luca Santochirico and Lorenzo Cresta.
For further information on the AC Milan Academy Camp 2019:
To register:
https://en.sporteventi.com/registration-acmilansoccercamp.html