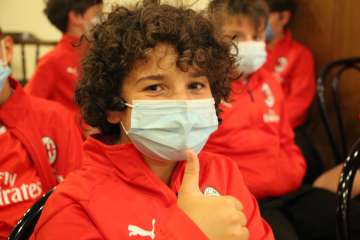 Dear parents, dear campers,
we hereby wish to update you on the new security protocols on COVID-19.
Following the termination of the emergency period linked to COVID-19 in Italy and in light of the recent provisions of the Italian Government, the company Silaq (www.silaq.com) – which defines and co-signs the safety protocols with Sporteventi – has changed
as follows the COVID-19 protocols for summer 2022:
removal of the Reinforced Green Pass requirement: to participate at the AC Milan Junior Camps of Sporteventi of the summer 2022 it is no longer necessary to have completed the vaccination cycle or to have passed the Covid-19 infection in the 120 days preceding the departure of the camp
request for the participation of only the rapid negative swab dated no later than 48 hours from the start of the camp (14.00 on Sunday)
request for the participation of the complete vaccination cycle or recovery for no more than 120 days from the start of the camp (14.00 on Sunday) for those who arrive at the camp without their parents or delegates (UM airport procedures)
maintaining of the obligation of distancing and the use of masks in indoor places
maintaining of the "bubble" system at the hotel and in the football field
To date, residential (JUNIOR) and non-residential (DAY) participants are therefore equalized.
It is understood that the aforementioned security protocols from now to the start of the camps could undergo further simplifications should the pandemic improve further.
Thanks for your patience and cooperation.
See you next summer!!
A big hello and Forza Milan!