Cortina d'Ampezzo is an amazing mountain town surrounded at 360 ° by the majestic of the Dolomites (Italian Alps) which give the town and the valley a unique beauty in the world: in the summer evenings the mountain peaks come to life, colouring themselves in different colours (pink, red and orange), creating a real work of art.
It is certainly the mountain resort – UNESCO World Heritage Site – most renowned in Italy and among the best known worldwide.
The breath-taking landscapes and the uncontaminated nature that characterize it, make it a popular destination for many athletes, which is why – in addition to having hosted several competitions renowned worldwide for many years – it will have the honour of hosting the Milan-Cortina Winter Olympics Games in 2026.
The AC Milan Academy summer camps in Cortina d'Ampezzo had already been awarded by AC Milan as the "best AC Milan Camp of the world" and was sold out for 23 years.
Daily workouts alternate with recreational activities, with constant supervision of the kids for 24 hours a day.
The AC Milan Junior Camp of the summer 2023 in Cortina d'Ampezzo starts on June the 18th!
The parents who want to spend their holidays in Cortina d'Ampezzo – while during the day their children play football and learn new tricks – could join them in the late afternoon choosing the DAY formula (the participants arrive at 9.00 am and return back to the family at 6.30 pm after afternoon training).
---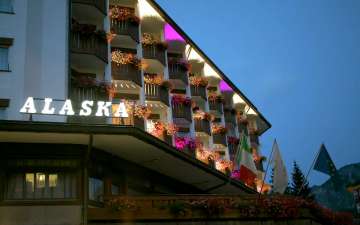 The Hotel
The hotel that will host the campers in Cortina d'Ampezzo during the AC Milan camps is the Hotel Alaska (Hit Hotel – Domina group), a 4-star hotel located in the city center and connected to the football fields by a private shuttle service.
---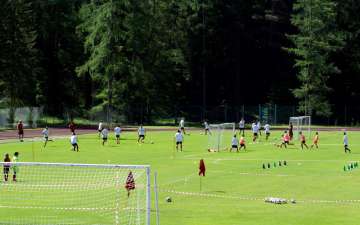 Football Fields
Two fields are being used for the training sessions:
Antonella De Rigo Sport Center: the complex is a modern structure with football field and a 400 m athletics ring.
Olympic Ski-Jump: soccer field located at the bottom of the magnificent 1956 Olympic facility.