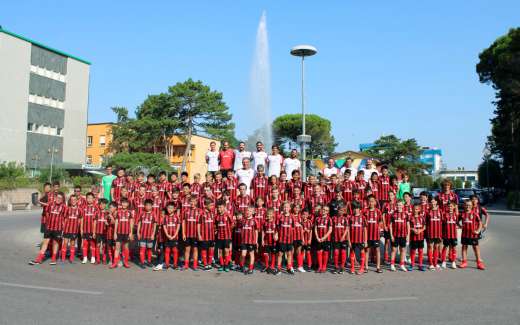 The Adriatic tourist resort of Lignano is located sixty kilometers from Udine and a hundred kilometers from Venice. Lignano Sabbiadoro offers the opportunity to practice nautical and non-water sports, to relax, to shop, to have fun every evening (in cinemas, discos, arcades and amusement water parks) and to taste the good Friulian cuisine.
Lignano Sabbiadoro's coastline is divided into three areas (Sabbiadoro, Pineta and Riviera): the 8 kilometers of beach coast have been awarded the Blue Flag for years. Lignano boasts a complex of recreational nautical infrastructures, among the most developed in Europe, with a very high tourist presence.
The AC Milan Camps of Lignano Sabbiadoro will start on 6th August 2023!
The AC Milan Junior Camp has experienced growing success for years, with participants from all over the world. The camp starts on Sunday at 2.30 pm and ends on Saturday at 1.00 pm. Participants are supervised and looked after 24 hours a day. The camp is characterized by alternating trainings and recreational activities.
Also the parents, who want to spend their holidays in Lignano Sabbiadoro while during the day their children play football and live this amazing sport experience, can book the camp with the DAY formula (the participants arrive at 9.00 am and return back to the family at 6.30 pm after afternoon training).
---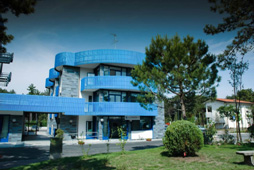 The Hotel
The AC Milan Junior Camp will take place in the wonderful tourist-sports village "Bella Italia EFA Village" which consists of 13 accommodation facilities, for a whole capacity of 2800 people, 60 hectares of pine forest and 1200 square meters of private beach, a sports hall , swimming pools and soccer fields.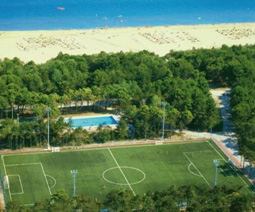 Football Field
Bella Italia sports center: the facility is equipped with football field 100*60 mt last-generation-artificial-grass.