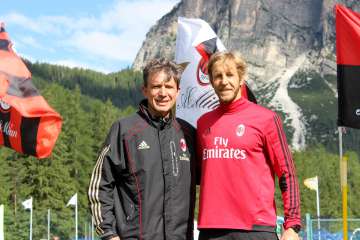 Even in the summer 2019 highly prestigious Lead Coaches will be present during the AC Milan Academy Camps in Cortina d'Ampezzo, Asiago Mountain Plateau, Jesolo (Venice) and Lignano Sabbiadoro.
Today we mention Coach Stefano Eranio, great player before at Genoa FC and then at AC Milan of the "invincibles" of Fabio Capello. With AC Milan he won 3 Scudetti (1993, 1994 and 1996), three Italian SuperCups (1992, 1993 and 1994) and also played two Champions' Cup finals. The first, in the 1992-1993 season, was lost by AC Milan 1-0 against Olympique Marseille, and the second (1993-1994 season) was won 4-0 against Ajax.
Eranio then added another trophy in his personal showcase in 1994, with the victory of the European Super Cup.
At the link you will soon find his CV: https://en.sporteventi.com/stefanoeranio-acmilansoccercamp.html.
Coach Stefano Eranio will be the Lead Coach at AC Milan Camp of Cortina d'Ampezzo (1st week) and will be assisted by AC Milan Academy Technical Director Luca Santochirico.
Photo gallery:
For further information on the AC Milan Academy Camp 2019:
To register:
https://en.sporteventi.com/registration-acmilansoccercamp.html