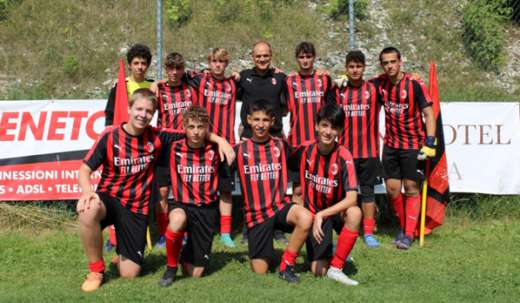 The AC Milan Junior Camps are summer soccer camps for children aged 6-17-year-old.
These camps are organized by official AC Milan partners during the summer in prestigious seaside or mountain locations.
Sporteventi is one of the most important AC Milan Official Partners involved in the Milan Academy!
Here you are following two important reviews by prestigious organizations Sporteventi obtained in the past:
The official languages spoken at the camp are English and Italian.
---
The AC Milan Soccer Academy is a coeducational training program dedicated to providing excellence in the development of soccer players. The academy provides a challenging and enriching environment for children and guys of all ability levels and ages (from 6 to 17 years old).
This summer football academy is first and foremost a summer week of vacation for boys and girls: vacation that although focused on football (soccer), offers much more. This brief but intense training camp also is a week of fun and sharing with the other boys and girls, a week spent learning to respect each other.
The AC Milan Junior Camp is an important time to stimulate the sense of responsibility of the participants and to let them learn the important value of rules and education, to turn the joy of the youth into amazing and unforgettable moments of passion… simply playing football (soccer).
The AC Milan Camps welcome every year more than 1000 campers during 10 weeks throughout the months of June, July and August: 600 from Italy, 400 from 50 different countries and in particular: USA, CANADA, UK, JORDAN, KUWAIT, SAUDI ARABIA, EMIRATES, JAPAN, CROATIA, SLOVENIA, GERMANY, GREECE, RUSSIA, SWTZERLAND, INDIA, MEXICO, LEBANON, UKRAIN, SLOVAKIA, CHINA (etc).